May 24, 2021
5 Sessions to Look Out For at Affiliate Summit East

The agenda for Affiliate Summit East is starting to come together… but before the whole shebang drops, we wanted to give you a sneak peek!

Every session is packed with actionable takeaways for everyone in the affiliate industry, but to make organizing your schedule a little easier…

We're going to show you bit by bit!

#1 How to Scale Facebook Ads Big Time!
Look out for a session with Alex Fedotoff, the Founder of Ecommerce Scaling Secrets. Alex has scaled a dropshipping business from 0 to 8-figure level in less than 16 months in the health and fitness niche and generated over $100 mil. in eCommerce sales through his career. Forbes calls him the "King of Scaling Facebook Ads" and his community "Facebook ads rockstars" has more than 48,000 advertiser members. This session will be hugely popular for affiliates, advertisers, and ecommerce store owners alike! This case study goes through how he scaled from 0 to 9.3 million in 12 months with Facebook ads exclusively. You do NOT want to miss this one!

#2 How to Scale Organically… on TikTok
TikTok is known for being the key with Gen Z. But most marketers dismiss TikTok as being fluff content with no real business use case. Wrong! TikTok is an incredible source of free, organic traffic. So if you like traffic and don't feel like paying for it, TikTok is your friend. Keep your eye out for a session with Luna Vega. Luna is going to unpack how to 10X your organic traffic with TikTok.

#3 How to Win on "Interruptive" Channels, Like Snapchat
Outside of Facebook, YouTube, Google, etc… There are other ways to leverage the ads you're creating for those traditional paid advertising channels. You can repurpose them on more "interruptive" channels like Snapchat, where advertising isn't nearly as oversaturated as it is on Facebook and Google. Scott Cunningham is the Founder and Managing Director of Social Lite, a Shopify Partner sales and marketing agency that has helped hundreds of Shopify merchants scale their revenue with Facebook Ads, Google Ads, email marketing, and Conversion Rate Optimization.


#4 How to Roll Out Your Influencer Campaign
Courtney Spritzer owns a super cool digital marketing agency known as Socialfly, where the key to their success is influencer campaigns. She'll walk you through how to set up a campaign and attract influencers that align with your brand's mission, plus strategies to implement along the way. A must-see for any brand!

#5 How to Scale Video Ads (From a Top 5 YouTube Ad Spender!)
If scaling ads piques your interest, you should also know about the session with Christopher Walker, the Co-Founder of UMZU. Although his story is a huge inspiration, his YouTube spend is all tactical strategy. As the #4 YouTube ad spender in the world, he's going to walk you through his proven strategy for scaling video ads. Add it to your schedule!


Want to know more about Affiliate Summit East ?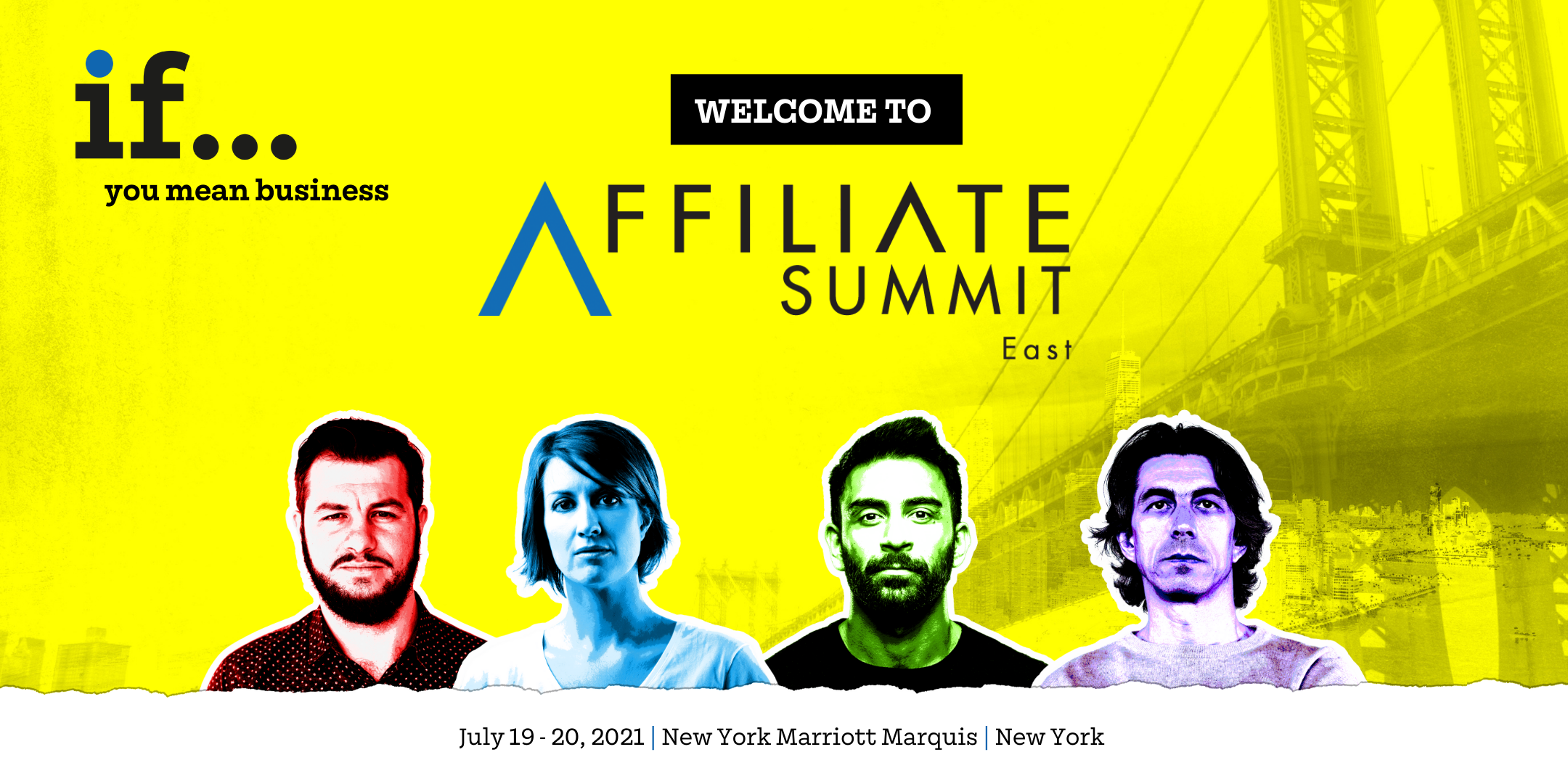 We'll have 20+ strategic sessions on scaling ad campaigns, boosting customer retention, optimizing your landing pages, improving your customer experience and much MUCH more.

EXPLORE THE EVENT