Jan 18, 2023
Affiliate Summit West 2023 Speaker Predictions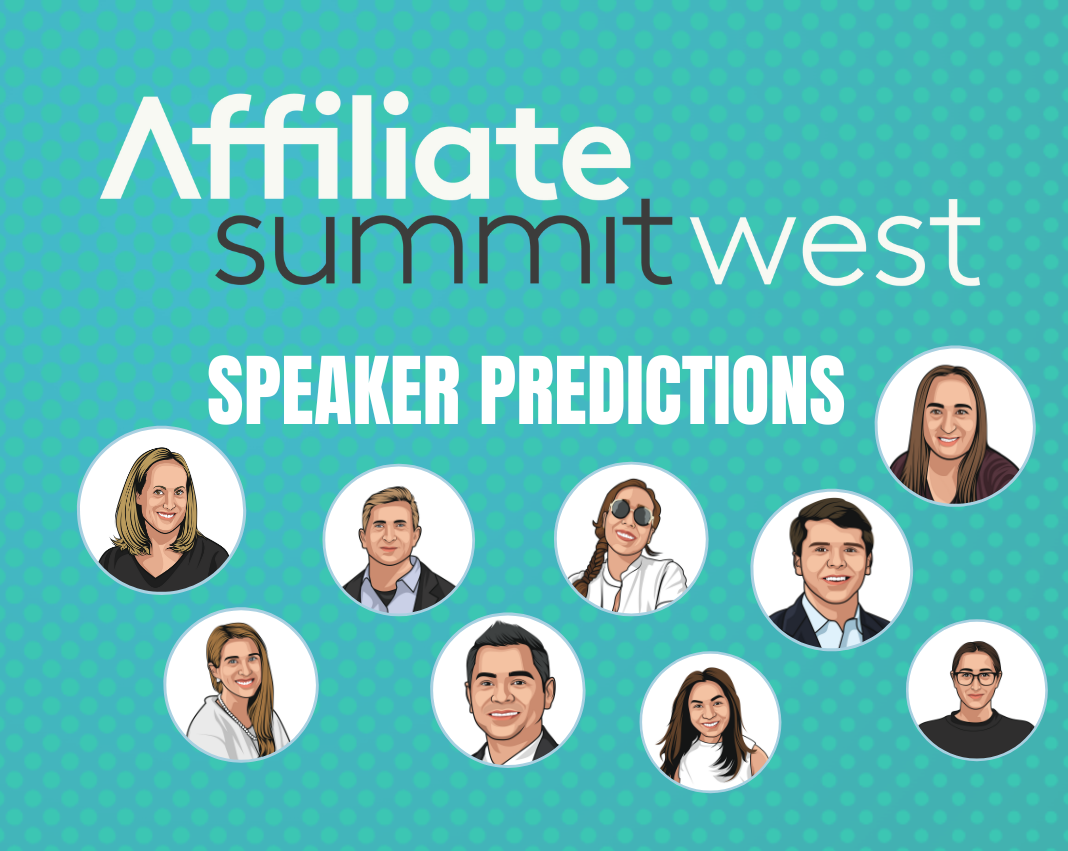 Affiliate Summit West is already known for its high-quality array of speakers and presenters, and 2023 is no different. Recently, we talked to a number of the experts who will be speaking at ASW23 to see what they believe the new year has in store for us all. Read on to find out what they said.
What Does 2023 Have In Store? Let's Find Out
Molly Mahoney from "The Prepared Performer" had strong thoughts about where marketing is going in 2023. People are getting savvier all the time when it comes to digital marketing strategies. Because of that, they don't want to see perfection - they want to see realism. They want to see authenticity. She believes that speaking to people as a human being and creating real content is the direction things are headed in.
Awin's CEO Adam Ross' prediction was that out of the ashes of the tech layoffs of 2022, we'll start to see those people begin to come together and form exciting new businesses. Indeed, his perspective is that 2023 will be a year of disruption for the industry - and one that perhaps could not have come along at a better time.
The Era of Customer Retention is Upon Us
Kelly Ground of Acceleration Partners indicated that she believes 2023 will be the year when customer retention becomes a top priority. New customer acquisition is always important - but in an age when customer loyalty is declining, holding onto your existing, satisfied users should become the number one goal.
Mark Milutin, CEO and founder of Bread Loaf, agreed. He said that this is the year when his own company doubles down on customer retention, taking great steps to not only make sure that each customer is satisfied, but to keep them that way so that they keep coming back for more.
The Time for Marketing Value is Now
Awin's Jeannine Crooks said that 2023 is a year when consumers will remain focused on value. Even over the holidays of 2022, people weren't worried about supply chain issues - they waited to buy until they felt they were getting the absolute best deal. This will likely continue well into the new year.
Ben Helyar (NetRev) agreed, saying that he's observed people becoming more price sensitive than ever. Therefore, the brands that really lean indicating how much people are saving will be the ones who see the best results in 2023.
Katy Hall, Wickfire's COO, reiterated these sentiments and predicted that in 2023 the ecommerce industry will continue to boom. Consumers will be shopping online more than ever, seeking out better price and product comparisons, as well as online only access to coupons and deals to get more value from their hard-earned dollars.
2023: How the Economy Will Impact the Landscape
Cody Bramlett (CEO of Science Natural Supplements) said that in 2023, he predicted a weeding out of smaller companies. The smaller "want-repreneurs" will start to fall away as they lose access to cryptocurrencies and other sources of funding. The businesses that actually have rock-solid systems in place will be the ones that succeed.
Dave Hall's (Owner, MotoArt) prediction for 2023 involved slightly less growth than in 2022. However, his business has a plan to counterattack by going to more niche shows in his vertical - and he hopes that others out there will be able to do the same.
The Trouble With Artificial Intelligence
Adam Riemer from Adam Riemer Marketing said that he believes that 2023 is the year when more and more people use artificial intelligence to not only write copy, but code as well. While this can be a great idea in certain situations, he still believes that true authenticity is very much the name of the game.
Sara Margulis from Honey Fund agreed, saying that she believed we would see a big fumble in 2023 regarding AI generated content. She also said she thought more and more companies would develop a "life stage" marketing model moving forward.
The Year of Reflection and Reinvention
Lisa Tanzer from Katie Couric Media believes 2023 will be the year when brands start to reconsider their current marketing tactics, especially as budgets continue to tighten up. They're going to be looking for those channels that generate the highest return - those are the efforts that most people are going to double down on in the not-too-distant future.
Zillah Byng-Thorne, the CEO of Future PLC, noted the new year will be a fantastic one building on the success and the trends of the last five years. She thinks we'll see a resurgence in the idea of social shopping, brought on particularly by the proliferation of mobile phones.
Yvette Edsall, the COO at Fintel Connect, said that as brands look to control their marketing spend, affiliate marketing will absolutely be able to make its presence known. The area that she specifically singled out was that of financial services.
The Changing Social Media Landscape
Luna Vega, founder of Viral Agency, spoke specifically on TikTok. With the unpredictability of the algorithm, it will be more important than ever for brands to find a way to differentiate themselves - be it their production style, through editing techniques, or a combination thereof.
A Strong Industry, Despite the Economy
Nick Goodling from Marketplace Velocity predicted that we would start the first half of 2023 in a recession, with prices continuing to increase across the board. However, he said that he does see relief coming in the second half of the year.
With agreeing sentiments, Melissa Feemster from Team Bespoke believes that in 2023 the affiliate channel will continue to attract spend from advertisers. As affiliates are a huge part of not only the discovery process, but the conversion process as well.
To find out more information about Affiliate Summit West's speaker line up please visit the Affiliate Summit website today.