May 28, 2020
Hey Siri, Show Me 5 Easy-To-Implement Strategies To Optimize My Site For Voice Search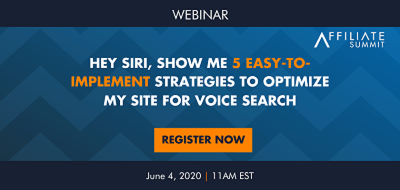 We all know that the first rule of SEO is to optimize for your readers, not search engines…

But, now that our readers are quickly moving over to voice search we NEED to prepare our sites for this change.

Did you know that according to Quoracreative voice search is predicted to be 50% of all searches for 2020? 🤯🤯🤯

This webinar "Hey Siri, Show Me 5 Easy-To-Implement Strategies To Optimize My Site For Voice Search" will look at actionable tactics to prepare your site for this rapidly increasing trend!
⏰ But ACT FAST… places are limited! ⏰

Sign up today and join our panel of experts, including Kristine Schachinger, Founder, Sites Without Walls, and Duane Forrester, VP of Industry Insights, Yext, on June 4, 2020 at 11AM EST.

In this 1 hour webinar you'll learn to:
Understand voice search better than ever before, by learning how Google processes language
Gain proven strategies to optimize for the featured snippets google often uses
Know how Alexa and Google at Home use their programming languages to create voice searches
Learn to differentiate voice to text vs voice direct

If these ⬆️ are skills you want to learn or develop - then save your place TODAY!