Blogs
---
Jan 06, 2020
Your Affiliate Summit - An interview with Awin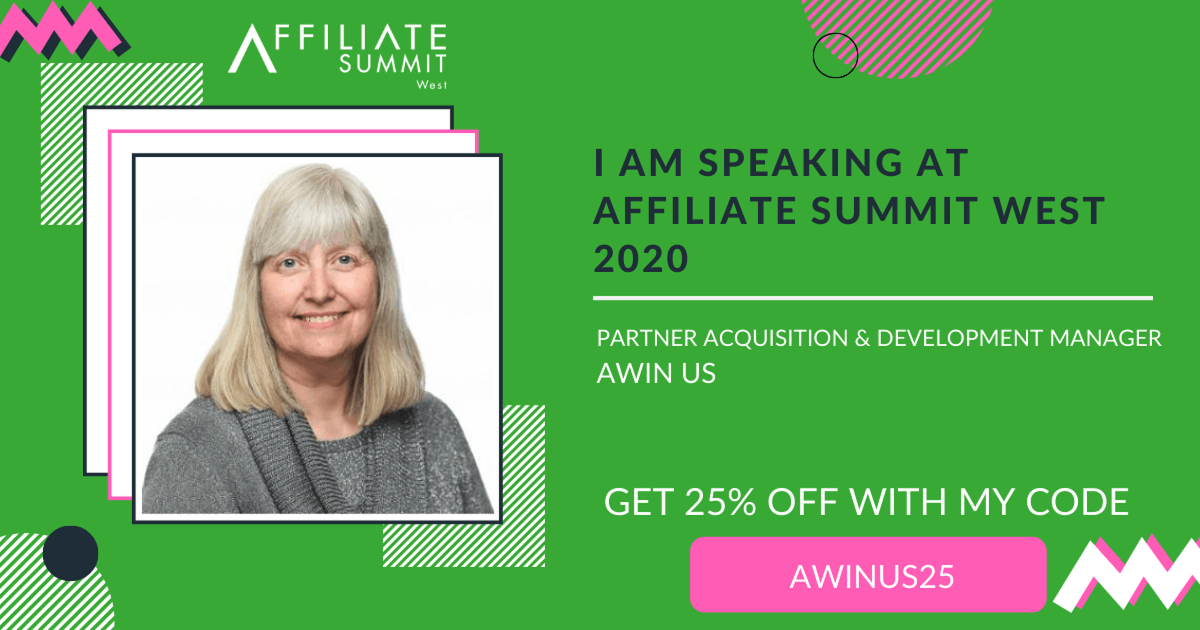 With Affiliate Summit West 2020 being our 50th Affiliate Summit, we spoke to Jeannine Crooks from Awin US to provide us their own thoughts on key topics, Affiliate Summit and more.
How many times have you been to an Affiliate Summit show?
This will be my 31st Affiliate Summit. So excited! I've been to every ASE and ASW since 2005, the year when there was only one Summit. That includes all the Summits not only in Las Vegas and New York, but also Boston, Miami, Orlando and Philadelphia.

Why is it important for you to come back every year?
The networking opportunities at Affiliate Summit are superior to any other event. I can always count on meeting both new advertisers and publishers as well as reconnecting with existing partners. It's an excellent mix of new and old, all in one place. Honestly, I believe my career would have gone in a much less-successful direction if it hadn't been for Affiliate Summit.

What trends do you think we can expect to see in the affiliate marketing industry in the next 1-2 years?
Looking ahead I see additional privacy legislation severely affecting our industry, which in turn results in new technologies to comply while still conducting business.' The never-ending evolution of new tracking, such as Awin's new bounceless tracking, will continue moving the industry forward as well. Our industry is relentless in developing new and better ways to serve advertisers and publishers as well as consumers.

What are your 3 main top tips to get the ball rolling with an affiliate marketing program?
First, design a payment program which pays affiliates for the action you want them to do. It may sound simple, but some advertisers fail to target the right activity for payment, then are disappointed. Second, choose the right partner network ' launching a new program in-house means you won't have a Compliance Review Team, advanced technologies that no single program could ever create, and no publisher base to draw from. Finally, understand that an affiliate program takes time to gain traction with publishers, so allow time to get established instead of throwing in the towel!

How has the show evolved in your eyes?
My first Affiliate Summit had 550 attendees; now nearly 6,000 come! The first Meet Market in Orlando had a handful of exhibitors and even fewer attendees, but has now grown to 6 hours of non-stop dealmaking. At first, all sessions were almost an hour long; now there's a huge offering of 20 minute sessions meaning there's even more topics to learn in the same amount of time. The growth of Affiliate Summit is mind-boggling. But even more important, thanks to the growth of Affiliate Summit, our industry has grown as well. The contacts made during those special three days, twice a year, have molded the very core of affiliate marketing both in the US and globally. I'm so glad I witnessed the power and reach of Affiliate Summit.

What is your advice to attendees coming for the first time to Affiliate Summit?
Plan your time carefully to ensure maximum results. For example, review which companies are only exhibiting at Meet Market, prioritizing them over the ones which will also be available during the Trade Show. Prioritize which sessions to attend to ensure that there will also be time to walk the show floor. Finally, bring enough business cards, both to share and to enter the many wonderful drawings sponsored by exhibitors!

What are your three highlights from ALL the affiliate summit shows you have been to?
The first highlight would be Awin's selection as Network of the Year during ASE19. The second highlight was the wonderful tribute to James Martell, a legend in our industry, also during ASE19.' My third highlight would be a very personal one ' the time the panel of John LoBrutto, Mike Allen and I received a perfect '10' rating from the 90 attendees at one of our sessions. We were very honored that they thought so highly of the information we shared!
Honestly, over so many years, it's hard to choose just three. Favorite memories include the ShareASale party on the boat in Boston when Brian Littleton played keyboards with the band, or the Affiliate Summit games in New York City when grown men did their best to ride tiny tricycles to win bragging rights for the next year as best athlete. Then of course there was the earthquake during an ASE at the New York Hilton or the various parties at The Palm in Las Vegas. It's almost impossible to choose just three.
---
BUY PASSES HERE TO EXPERIENCE YOUR AFFILIATE SUMMIT

JEANNINE CROOKS
Partner Acquisition & Development Manager,'Awin

As the Partner Acquisition & Development Manager with Awin US, Jeannine works closely with many of their largest programs such as Viator, Etsy, eBags, and Lonely Planet. She is a frequent speaker at numerous events including Affiliate Management Days, TBEX, FinCon, CardCon and Affiliate Summit. Jeannine works with all types of publishers, especially bloggers, helping each to maximize their affiliate earnings. With nearly 20 years in affiliate marketing, she is always happy to share her knowledge to help other succeed in the industry she loves.
Jeannine, her photographer husband Brad, and their three Siberian Huskies, Dusty, Cody and Hunter, live south of Denver. They love sports, especially hockey, and travel as often as they can. Fun fact: Jeannine was a labor coach and helped deliver 25 babies.

CATCH HER SESSION AT #ASW20!
"Knock it Out of the Park: 11 Pro Tips to Improve your Game!"
Get the ball rolling with your affiliate marketing program! The ball is in their court ' so choose the right network, put on a full court press to maximize conversions, slam dunk with profitable campaigns, learn the game of inches with effective site optimization, and don't drop with ball. Avoid common mistakes and Monday morning quarterback pitfalls through vital metrics. Affiliate Marketing is a team sport. Learn how to win with three affiliate experts and industry veterans.

January 28th, 10am - 10:50am, Track 3 - Expo Stage
Beginner Session
Open to Networking Plus and VIP passes only

BUY PASSES HERE TO EXPERIENCE YOUR AFFILIATE SUMMIT