Blogs
---
Mar 07, 2020
IWD - An Interview With Rakhee from Rakuten Advertising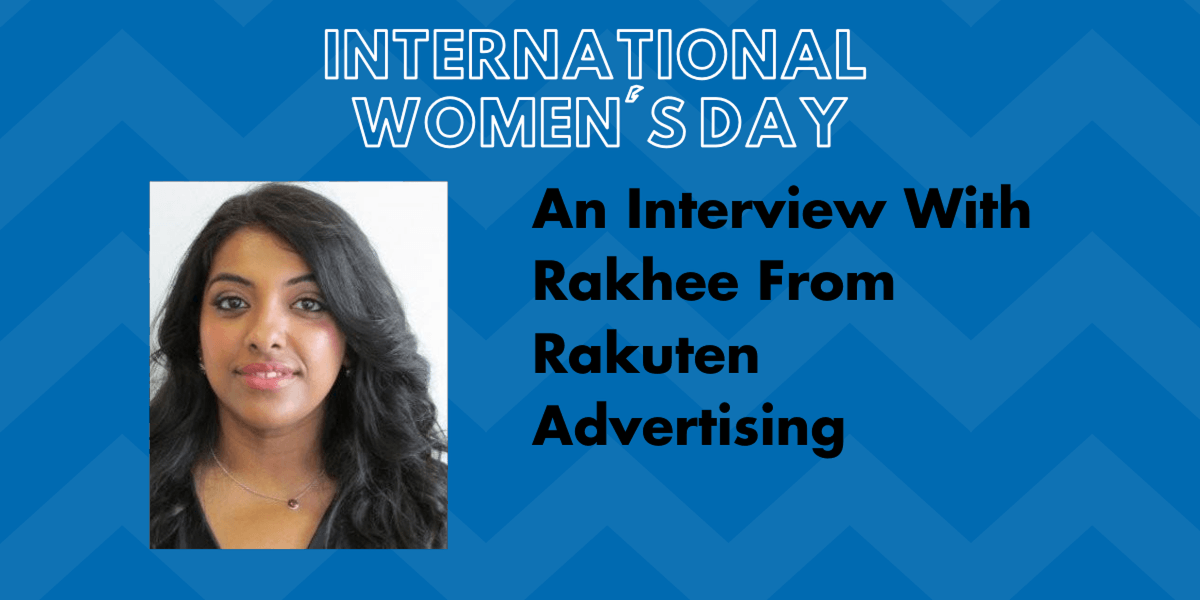 We're continuing to celebrate women in affiliate marketing with out next interview with Rakhee, VP of Publisher Partnerships, International from Rakuten Advertising.'
What is the proudest moment of your career?'
I'm proudest of having built an incredibly diverse team during my time at Rakuten Advertising. At one point, no two people in my team were the same ' and whilst it wasn't a conscious choice at the time, we had a mix of different skillsets, languages, genders, backgrounds. I was extremely proud of their ability to work as a group, and as a result, the team went onto to win awards for some of our key clients. It was a true testament to their ability to be agile and innovative, given we were in an incredibly competitive industry.
What has been the most challenging moment of your career?
Achieving work-life balance has been one of the biggest challenges of my career. I'm very ambitious and, at critical points of my career, I've had to remind myself that taking time to
'switch off' won't impact my ability to get ahead. I'm also in a global role and work with a team across APAC, EMEA and LATAM, which requires a demanding schedule. Fortunately, Rakuten Advertising promotes flexible work hours to accommodate people in global roles, which makes it easier to reserve time for my personal life. I've also found active coaching and mindfulness incredibly helpful in learning how to achieve balance.
What advice would you give to woman in affiliate marketing?
Get yourself an amazing support network ' a mentor or coach. Your ability to be vulnerable and work with someone who reciprocates vulnerability, is far more powerful than any formal training you will receive. I cannot put more emphasis on the value of mentoring and coaching, it's been pivotal to my own professional and personal growth in the last few years.
Why have you chosen to work within affiliate marketing?
To be honest, I didn't! 'Originally, I studied graphic design and was working in publishing, before I was offered an opportunity to handle ad-serving role within the business. This then presented me with two opportunities, to go in-house with the Ad Platform, or join a network.
Over time, I have developed a passion for affiliate marketing, especially when it comes to working with publishers and empowering them to continue innovating. I'm proud of the contributions I've made to the industry.
2020 marks my 10th year at Rakuten Advertising, and it's been a crazy ride!
What do you think is the biggest issue for woman in affiliate marketing?
Reflecting on my journey over recent years, the biggest issue for women in our industry is how we're empowering women to become equitable members of the workforce. We have a long road ahead of us, and there are so many levels to address; from flexible working, equal pay, handling unconscious biases, to women in leadership, to name a few.
First and foremost, companies need to address unconscious biases from top-down. When you build more inclusive cultures, than diversity naturally follows. If we're inclusive first, then we raise all communities at the same time ' Women, LGBTQ+, BAME, etc.
Because there is a lot of ground to cover, this would be my biggest recommendation to anyone looking to really understand the issues women (and others) face today.
I'm proud to say I'm a part of a team that is starting to address these issues head on and we're doing some amazing work internally to support women in our organization. Offering flexible working/contracts, speaker & confidence training and internal mentoring are some ways we're hoping to create more equity for women.
What female figure is your inspiration and why?
There's two people that immediately come to mind, the first is my Mum. She taught me about the value of hard work, at a very young age and, seeing how hard my parents worked to successfully run their own business has been my biggest inspiration. They've been my spiritual guide and support system, throughout my life.
The second, was my Director, in my first role at TradeDoubler. Not only was I new to an industry, but I was just starting my professional career, with absolutely no roadmap for success. She had a wonderful balance between being my manager, and mentor, helped me breakthrough a lot of my own fears and doubts, to become the professional I am today.
I find inspiration through my own network of support, those that nurture and guide you as you're growing, are people you never forget. It's so important to have these kind of relationships, because we never truly stop growing.
The most important message you would send out to your peers, friends and colleagues?
Be open-minded, honest and vulnerable ' it scares a lot of people, regardless of gender, or ability, but it's an incredible tool to help you connect to different parts of your life and personal ambitions.
And learn from others ' get yourself a coach, or mentor, you can connect with to help to expand your thinking. They are incredibly valuable to help guide you in the next part of your journey, whether that's personal or professional.
Any empowering books/ articles you would recommend
David and Goliath: Underdogs, Misfits and the Art of Battling Giants, is a great read, if you want to find inspiration and expand your thinking. My key takeaway was how something that could be perceived as a quirk or difference, could be leveraged as a strength.
Whilst it's not a book or article, I would recommend joining free seminars run by Utopia. Utopia is culture-change company that works with businesses to create more purposeful, more inclusive, and more entrepreneurial cultures. I was confronted by my own unconscious bias, and also astounded by my lack of understanding around inclusion and diversity. Utopia run a lot of free events and I would recommend one of their Hackathons to anyone.
A quote by a female figure that you go by
It's easier to'ask forgiveness'than it is to get permission. - Grace Hopper
---
RAKHEE JOGIA
VP of Publisher Partnerships, International,'Rakuten Advertising
Rakhee has over 13 years' experience in affiliate, display, and digital marketing. As VP of Publisher Partnerships, International at Rakuten Advertising, Rakhee is responsible for supporting audience supply and distribution across the APAC, EMEA and LATAM region, with the objective to diversify, maximise and uncomplicate audience monetisation. Previous to this role, Rakhee was Regional Director of Rakuten Advertising Europe, Display and supported brands looking to build bespoke display strategies, tailored to their consumers' browsing and purchasing behaviours. Prior to joining Rakuten Advertising, Rakhee worked for TradeDoubler as International Publisher Manager on an impressive portfolio of top 50 clients.
'