Blogs
---
Mar 06, 2020
"Take full advantage of opportunities and be your own cheerleader"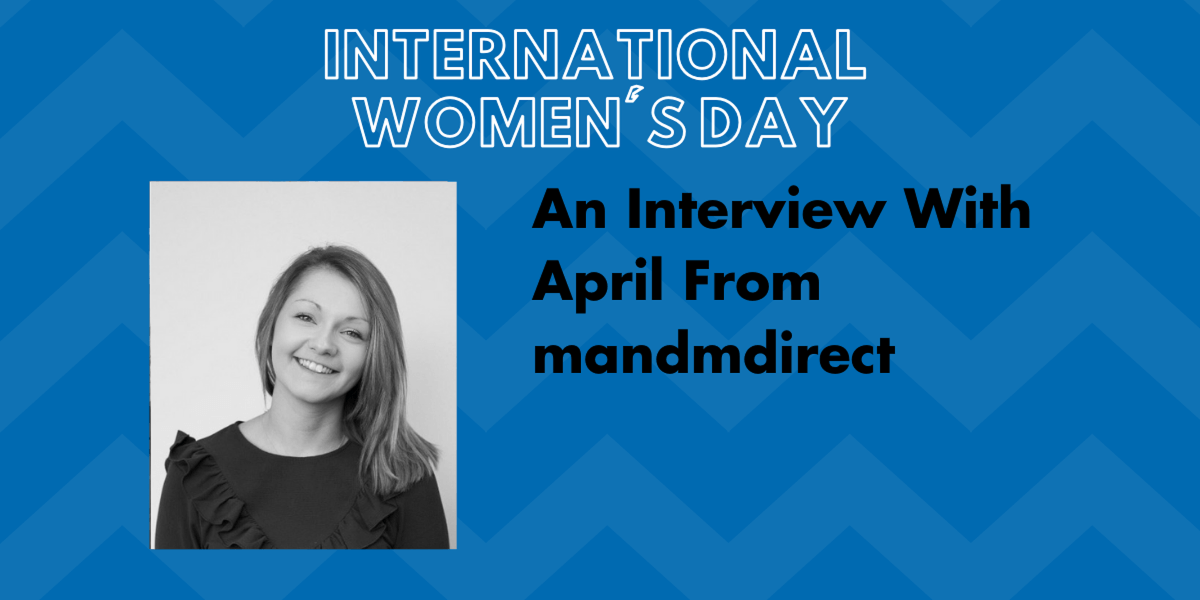 International Women's Day is right around the corner, and we've spoken to a number of inspiring women in the industry. Next up, April Roberts from mandmdirect gives us her take on challenges, the most important message she would send out to her peers, and more.'
'
What has been the most challenging moment of your career?'
I think some of my most challenging moments in my career'have been trying to prove myself and be taken seriously in my early twenties. People are so quick to judge your ability on your age, rather than take onboard your ideas and suggestions. I am very lucky to be part of a team that constantly encourage development and push you to be the best in your field.'
What is the proudest moment of your career?'
My proudest moment in my career was joining the board of Young Enterprise,' South West of England. Young Enterprise allowed me to give back what I had learnt from my career so far and allowed me to help young people discover the opportunities they didn't know existed as well help'inspire them to unleash their potential. It was truly rewarding to watch them develop and become more confident in their ideas throughout the programme.''
What female figure is your inspiration and why?'
After reading Michelle Obama's book last year, I found her story very raw and honest. She is an inspiration to womanhood, from the way she captivated audiences everywhere from the moment she stepped into the public eye, to her iconic fashion looks and her contagious positivity. She has inspired women to prioritize self-care and use our voices for change. And of course, My Mum - she has always instilled a work ethic in me, but also to work hard, be personable and be respectful and your opinion and presence will always be valued.'
Why have you chosen to work within affiliate marketing?'
Working across different industries such as events and retail, affiliate marketing has always been a small part of my role, however, a part I had always found interesting. I enjoy the challenging nature of my role and continually working on ways to grow the channel. I now have the opportunity to test and trail non traditional affiliate activity, such as partnerships and influencers. It is a really exciting time to be part of affiliate marketing.'
What do you think is the biggest issue for woman in affiliate marketing?
One of the issues we all face in affiliate marketing is taking the risk to try something outside of the norm, it is easy to become compliant but it is so important to test new ideas, especially in a market that is constantly changing.'
What advice would you give to woman in affiliate marketing?
It's okay if things didn't work how you had first hoped on a campaign, it is important to learn from why it didn't work and be open to change.'
The most important message you would send out to your peers, friends and colleagues?'
Care for what you do and'unapologetically be yourself. Take full advantage of opportunities and be your own cheerleader!'
You'll be leading a session on bringing the strategy under one roof? Why is this a must attend session?'
MandM Direct has a data first approach'to its acquisition and retention and this joined up way of marketing is what's fueling our growth in 2020. My session is all about how we have done this and the importance of why.'
What are you most excited about for Affiliate Summit Europe?'
The Affiliate Summit Europe provides a great opportunity for the leaders of Affiliate Market to be under one roof, it is exciting to learn how affiliate marketing is changing and what others are doing to grow the channel.'
A quote by a female figure that you go by
"You have to do what you dream of doing even while you're afraid."' - Arianna Huffington'
---
APRIL ROBERTS
Partnerships Manager,'MandM Direct
April Roberts is the Partnerships Manager for MandM Direct. Having joined the team in October 2018, April has quickly grown and expanded their partnership marketing and is now focusing on non traditional affiliate relationships.
'
'
'